The Sequoia Snowmobile Club hosted the 24th annual SnowFest event for clients and care givers of the Porterville Shelter Workshop. The event was rescheduled this year from February to March due to weather conditions, and luckily for all involved, we received just enough new snow on Friday night to provide a fun snow day in the mountains for the clients and their families. Larry and Greg from the Sugarloafers club in Bakersfield arrived early for breakfast expertly cooked by Ken Hanggi (right) and John "Boz" Bozanich (left).
We were very thankful to see CNSA club president, Travis Ferguson (center), with his daughter, Morgan (right), and Kurt Phillips (left), from Clawson Motorsports, ride up to increase the number of drivers by one third!
The buses arrived at 10:30 AM and our guests were greeted with hot chocolate and were ready for snowmobile rides.
Ivan is a regular at SnowFest.
Since we had to reschedule the event, we didn't have a large group of snowmobilers to provide rides this year due to schedule conflicts, so those who made it out were in demand and on heavy rotation.
"LET'S GO! LET'S GO!"
Our #1 client with a need for speed.
On my second lap, my passenger started giggling and she was having such a good time. I remembered her from last year, and it made me feel how lucky I am for my blessings in life and so happy to help provide a day of fun on the snow to our guests.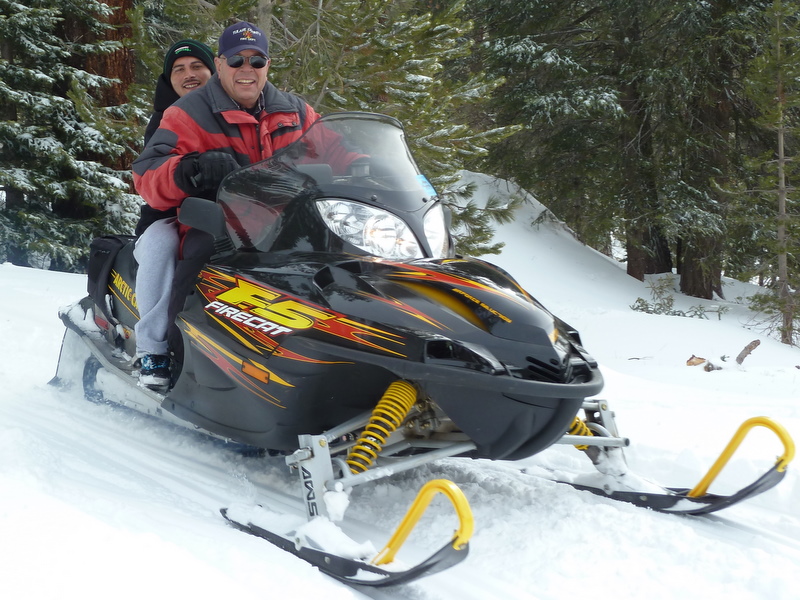 After the first round of snowmobile rides, we took a break for lunch. Thanks to Mary Brewer of the Ponderosa Lodge for carrying on the tradition of providing chili for the event. Thanks to many others for supporting lunch including burgers, buns and the rest of the fixings. Our guests, the riders and the support staff appreciate it!
Lunchtime snowplay. Note the snowball rapidly approaching!
We continued with more rides after lunch until the buses had to leave.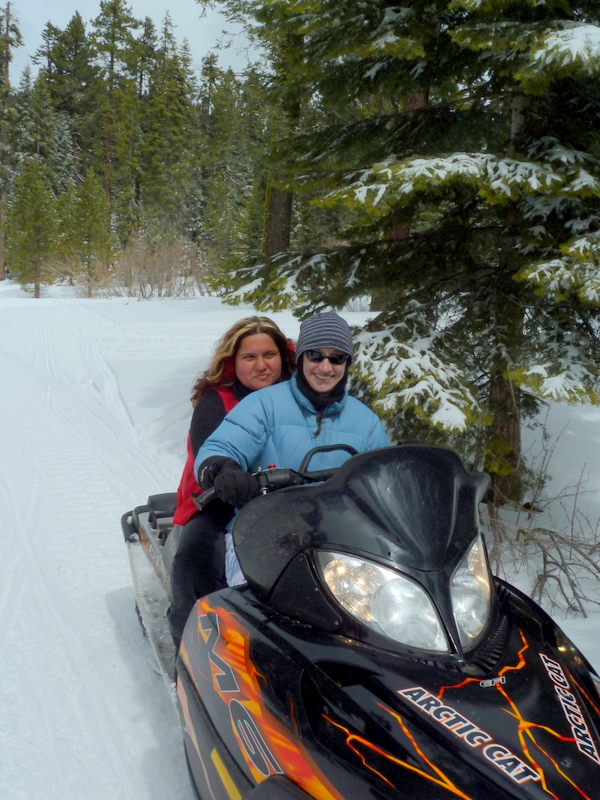 We had just enough time for a group photo before more snow began to fall as the buses were loaded and we had to say goodbye to the clients. The club is providing framed 5x7 prints for the clients to remember their time enjoying snowmobile rides and playing in the snow.
Our thanks for assisting us in this event are: Sugarloafers Snowmobile Club, Bass Lake Snowmobile CLub, Save Mart Supermarket S.H.A.R.E.S program, Tulare County Sheriffs Department, USFS Law Enforcement, USFS, CalTrans, California Parks, Ponderosa Lodge, Camp Nelson Volunteer Ambulance, the Upper Tule Association and many more.
Special thanks to Priscilla Summers, District Ranger, and Nolan Fritz, Recreation Manager, of the Forest Service for providing a groomed trail and the Quaking Aspen Campground to host the event.
Special thanks to Bill Dolmovic of High Sierra Snow Removal for making sure the fresh 8 inches of snow from the night before was removed from the driveway and parking area of the Quaking Aspen Campground so we could set up bright and early.